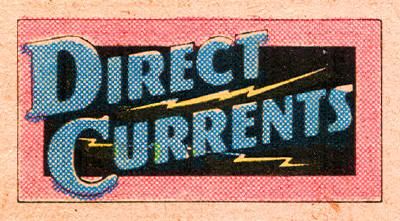 BLOGS
The Absorbascon
Jean Loring: Still Crazy After All These Years
The Aquaman Shrine's 4th Anniversary Week!
2010 New York Comic Con
Cosplay: Ray DeForest
Adventure Comics #252 - Sept. 1958
DCU Posters by Jose Luis Garcia Lopez
Tattoo Tuesday II
Super Friends Puzzle Cards - 1975
Super Powers All-Terrain Trapper - 1985
Armagideon Time
Batman #307 (January 1979)
Being Carter Hall
Argentinian Hawkman Gumcard
Read: Hawkman v.4:no.17
Charlton vs Mighty MLJ
Cancelite - Thy Name is Thine Blog
Comics Make Me Happy!
A Rannt for Weakness
Adam Strange pinup by MachSabre
Continued On 2nd Page Following
A Probably Bootleg Superman Shirt
Diana Prince: Wonder Woman
1991-92 Impel DC Cosmic Cards #22- Golden Age Cheetah
2009 "Wonder Woman vs Ares" art by Dave Wachter
2004 Wonder Girl Donna Troy Convention Sketch by Dale Eaglesham
El Jacone's Comic Book Bunker
Fair Trade: Haunted Tank
Every Day Is Like Wednesday
Hal Jordan, explained in just five panels
Firestorm Fan
Firestorm #1 on sale December 6…
Girls Gone Geek
Ponies + Superheroes = Delight
WTF? Wednesday: The Grown and Sexy Edition
Pull List Assessment – Part Two by Vanessa G.
Green Lantern Butt's FOREVER!
Green Lantern: Emerald Warriors #3
Green Lantern #58
The Idol-Head of Diabolu
Which Martian Manhunter Villains are among your Fourth most Interesting?
2006 "DC Universe: Last Sons" novel by Alan Grant
Justice League Detroit
Vamp/Vixen Character Design from JUSTICE LEAGUE: CRISIS ON TWO EARTHS by Jerome K. Moore
1991-92 Impel DC Cosmic Cards #47- Elongated Man
Kingdom Kane
"The Eyes of the Basilisk!" from House of Mystery No. 184, January-February 1970.
Power of the Atom
Justice #6 (August, 2006)
1991-92 Impel DC Cosmic Cards #69- Peacemaker
Pretty, Fizzy Paradise
Amazon Space Pirate Starfire, or the Appalling Dearth in the DCU's Outer Space Setting
Siskoid's Blog of Geekery
Dial H for Half (Rounded Up)
Slay, Monstrobot of the Deep!!
Tim Drake was Batman's partner for a longer period of time than Dick Grayson??
Evil Superman Puppet Superpowers Quiz
Supergirl Comic Box Commentary
Smallville: Supergirl
DC Super Heroes: The Ultimate Pop-Up Book
Back Issue Box: Superman #376
Review: Last Family Of Krypton #3
Review: Doom Patrol #15