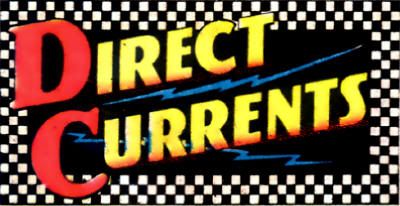 With AMC's "The Walking Dead" debuting to record ratings and Fox putting "Locke & Key" on the fast track, it seems likely more network executives will cast an eye toward comic books - particularly those that don't involve capes and tights - when they look to diversify their lineups in future seasons.
Tom Bondurant considers the history of the Legion of Super-Heroes and, despite his love for DC Comics, explores the reasons why he's never really been that passionate about them.
BLOGS
The Absorbascon
Lois is so supportive; she just can't help herself!
Leni Riefenstahl's Revenge!
The Aquaman Shrine
Aquaman (Vol.6) #13 - Oct. 1995
Aquaman (Vol.6) #14 - Nov. 1995
Batman Confidential #50 - Jan. 2011
Aquaman for Halloween
Aquaman: Time & Tide TPB Ad - 1996
Clark Bars in Japan - 1979
The Anti-Didio League of America
Cass is Back!!!!!
Armagideon Time
Nobody's Favorites: Scott Fischer
The unstoppable Mr. Atom
Being Carter Hall
Hawkman Magnet From Ataboy
Hawkgirl Magnet From Ataboy
Comics Make Me Happy!
Comics Go Historical?
Continued On 2nd Page Following
When Comic Book Thugs Look Like Charles Bronson Part 4
My Recent War Comics Reading: Haunted Tank
Corner Symbols of Coolness
Supergirl
Diana Prince: Wonder Woman
1993 Mayfair Games DC Heroes Role-Playing Game Third Edition Wonder Woman Entry
2010 DC Universe Plushies 7-Inch Wonder Woman
Diversions of the Groovy Kind
"The Thief Who Loved Supergirl" from Adventure Comics #419 (February 1972)
Every Day Is Like Wednesday
Some things I noticed about Action Comics Weekly #605
Links: JMS, .1, The Death of Spidey, etc.
Firestorm Fan
Shadow Thief's Trial for the Murder of Firestorm
Gerry Conway & Al Milgrom Firestorm Trade Paperback in 2011?
Firestorm Magnet with Art by Ed Benes
Girls Gone Geek
Lights, Camera, Wondy!
Tyranny of the Crisis
Green Lantern Butt's FOREVER!
Green Lantern: Emerald Warriors #4
The Idol-Head of Diabolu
Commander Blanx: The Most Important Martian Manhunter Adversary
The Ten Most Important Martian Manhunter Adversaries
2010 "Minimalist MARTIAN MANHUNTER" by Nathan Cosby
Justice League Detroit
2010 "DCUniverse Vol.7: The Injustice Gang" Black Manta by alexmax
Kingdom Kane
"The Phantom Passenger!" from All-American Westerns No. 108, June-July 1949
Once Upon A Geek
Geek Themed Keychains
Pappy's Golden Age Comics Blogzine
"Lady Blackhawk's Deadly Romance"
Power of the Atom
2010 Eaglemoss The DC Comics Super Hero Collection #68 - Captain Atom Figurine
Siskoid's Blog of Geekery
Dial H for Howzis!
Reign of the Supermen #10: Superman 2999
Reign of the Supermen #11: Superman Monster
Reign of the Supermen #12: Super-Ape
Reign of the Supermen #13: Power-Man
Reign of the Supermen #14: Byrnified Superman
Slay, Monstrobot of the Deep!!
The Best Super-Villain Plunger Fight You Will Ever See
Subject : THE SUICIDE SQUAD (Task Force X)
Would the real Amanda Waller please stand up?
Did anybody actually read this 2002 Suicide Squad series?
Plastique is the bomb!
Deadshot - Boba Fett, Bulls Eye,The Punisher and Adam Strange all rolled into one
Would the real Amanda Waller please stand up? Part II Angela Bassett has it for Green Lantern but what about Alfre Woodard?
Supergirl Comic Box Commentary
Poll: Optimism Or Pessimism
Back Issue Box: Adventure Comics #313 And Satan Girl
Superboy #1
Action Comics #894 Jimmy Olsen Back-Up
Supergirl Annual #2 Easter Eggs
The Thought Experiment
69 Days of Wonder Woman, Day 4: Tools of the trade
69 Days of Wonder Woman, Day 5: Fruitlessly turned against each other instead of joined in force
69 Days of Wonder Woman, Day 6: Insight from beautiful and brilliant Australian performance artist Evelyn Hartogh