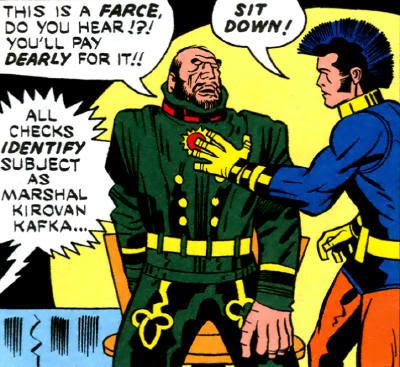 PERSONAL DATA
Real Name:
Kirovan Kafka
Occupation:
Bandit Marshal
Marital Status:
Unknown
Known Relatives:
None
Group Affiliation:
Leader of his own mercenary army
Base of Operations:
Central Europe, The World To Come
Height/Build:
Approximately 6'0" and stocky
Eyes:
Blue
Hair:
Black
First Appearance:
OMAC #3 (January-February, 1975)
HISTORY
Marshal Kirovan Kafka commanded his 100,000 strong mercenary army within his own unnamed Central European nation and against territorial neighbors. Massacre was their specialty, as Kafka played out his dream of becoming a Caesar. Those dreams were crushed by the One Man Army Corps, who used his own advanced weaponry and the incredible resources of Brother Eye to demolish the bandits and capture their leader. Kafka was turned over to the Global Peace Agency to be tried for war crimes at the Court of Justice. Kafka was charged with the following:
Mass Homicide: 3 Counts
Execution of Prisoners: 9 Counts
Conspiracy to Invade: 2 Counts
Intent to Subjugate and Enslave: 12 Counts
Design and Execution of Mass Terror upon Civilians: 3 Counts
Use of Weapons Outlawed by International Agreement: 2 Counts
Kafka was unrepentant, laughing at the charges and threatening more deaths when his avenger arrived at the super-court. True to his word, a doomsday creation had been unleashed against the court, but was redirected into space by OMAC. Kafka was last seen being escorted to confinement.
POWERS & WEAPONS:
Marshal Kafka had an enormous army and spectacularly advanced arsenal at his disposal. These included remote guided rockets, massive tanks, vertical take-off planes, barrages of barbed cannonballs, armored golf-carts, and a heavily armed mobile bunker weighing seventy tons. All of Kafka's forces were geared for mobility, so that all of his resources could be redirected on short notice to overwhelm any opposition. Kafka also had a bioengineering program with which he created an astonishing creature of unidentified construction with a nigh-impervious exterior that could project intense flames and sonic waves.
Quote:
"I'm not impressed by your gimmicks or speeches... Marshal Kafka will dictate peace! ...By the power of his weapons!"
Created by: Jack Kirby