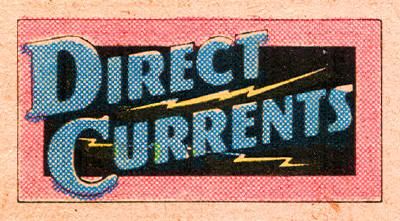 When a non-white cosplayer colors outside the lines, there's a risk of getting an awkward look...
Set in 2010, the story starts on the night of President Gore's third inauguration...
From the writer's desk to your anxiously waiting hands, technology is changing the world of comic books.
BLOGS
Amazon Princess
Wonder Woman fan film on Kickstarter
The Aquaman Shrine
Aquaman Art Gallery: Marcio L. Castro
Justice League of America #2 - Jan. 1961
Aquaman Shrine Fundraiser--Joe Prado Original Art!
DC Super Friends: Crime Wave!
Super Heroes Stock Art by Jose Luis Garcia Lopez
DC Super Hero Stamp Album - 1976
Aquaman Art Gallery: Mike Kevan
Are There Any More Cookies?
Dear One Million Moms:
Being Carter Hall
Warhawk's Origin in Justice League Beyond
Read: Earth 2 #2
The BLOG from the BOG ...SWAMP THING
Breaking Cincinnati Comic Expo News!!!!
Brian Bolland's Blog
Vamps unused cover rough
Unused Wonder Woman rough
Diana Prince: Wonder Woman
2012 Wonder Girl Donna Troy Houston Comicpalooza Cosplay
Diversions of the Groovy Kind
Superman in "My Son...Is He Man or Beast?" from Action Comics (March 1971)
"Look into my Eyes...and Kill!" from House of Mystery #216 (May 1973)
The Three Musketeers in DC Special #26 (May 1976)
Human Target from Action Comics #'s 422-423 (January-February 1974)
Batman in Limited Collectors' Edition C-25
Every Day Is Like Wednesday
25% of all DCU comics will be Batman comics
Firestorm Fan
FIRE AND WATER PODCAST Episode 21
Firestorm Rogues Gallery Cubees
Girls Gone Geek
Alan Moore by Frank Quitely
The Idol-Head of Diabolu
JLA 100 Project: Tim Seeley & Mike Norton
2011 Martian Manhunter Convention Sketch by Kelly Yates
2011 Miss Martian color art by Ozzie Rodriguez
Martian Manhunter Mego-Style action figure & box by Black Knight Customs
2012 Martian Manhunter Comicpalooza Commission by The Reverend Dave Johnson
Comrades of Mars: Jornell
2012 Roh Kar Comicpalooza Commission by Thom Zahler
Justice League Detroit
2011 Zatanna color art by Ozzie Rodriguez
Kevin Nowlan
Monsters in the Closet: page one
Batman and Solomon Grundy Page 19
Batman and Solomon Grundy: two-page spread
Superman vs. Aliens cover art for "FAN" magazine
Pappy's Golden Age Comics Blogzine
Joe Certa's vampire and werewolf
"The Secret Fate of Adolph Hitler!" from Strange Adventures #3 (1950)
Captain Marvel Adventures #150 (1953)
Sierra Smith, Western Detective story from Dale Evans Comics #2 (1948)
Blackhawk in Modern Comics #59 (1947)
Subject : THE SUICIDE SQUAD (Task Force X)
Suicide Squad #10 review: Ok, I'm loosing my patience
Supergirl Comic Box Commentary
DC Nation Magazine: SBFFs
Review: Superman Family Adventures #1
Help Oliver Nome
Review: Worlds' Finest #2
Review: Action Comics #10
A New Supergirl Movie?
Tower of Fate
History of Dr. Fate Part 7
New Dr. Fate HeroClix Figure
Earth 2 News & Plea to not change Dr. Fate
JSA Art by Jay Piscopo
Earth 2 #2 Review

Review Section
The Buy Pile
by Hannibal Tabu
June 13 by J. Caleb Mozzocco
Comics Of The Weak by Tucker Stone
Wednesday Is Any Day For All I Care by Diabolu Frank