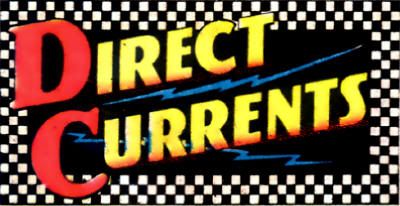 "I found out that I have a golfball size brain tumor..."
While superheroes dominate the box office, the medium that birthed them has moved on.
BLOGS
The Absorbascon
Sing along to "The Alan Scott Song!"
Amazon Princess
Wonder Women cosplayers
The Aquaman Shrine
The Fire and Water Podcast: Episode 20
"It's Never Too Late to Have A Happy Childhood"
Aquaman Art Gallery: Wescoast
Justice League of America #1 - Nov. 1960
DC Poster by Jose Luis Garcia Lopez - 1979
Aquaman Stock Art by Tom Grummett, Pt. 2
Mego Catalog Display - 1973
Armagideon Time presents "Saturdays with Streaky"
#9
,
#10
,
#11
,
#12
,
#13
Atomic Surgery
"The Human Time Capsules" from Strange Adventures #31 (April, 1953)
Being Carter Hall
Read: The Savage Hawkman #9
Joe Bennett's Savage Shayera?!
Brian Bolland's Blog
Rejected Wonder Woman cover rough
Two for the price of one today. Unused roughs.
Ragged Robin rejects
BronzeTiger
The 5 Year Fix: Young Justice
Bronze Tiger and Iron Fist
Diana Prince: Wonder Woman
1992 Wonder Woman Corner Box Figure by Brian Bolland
2006 Wonder Woman Art Book Piece by Brandon Peterson
Diversions of the Groovy Kind
"The Nightmare Maker!" from Superman #266 (May 1973)
"Chariots of the Stars!" from Beowulf #5 (September 1975)
Ragman #4 (November 1976)
"From Beyond the Grave! from House of Mystery #252 (February 1977)
"Born Loser" from House of Mystery #194 (June 1971)
"Hell of a Place!" from Secrets of Haunted House #10 (November 1977)
Man-Bat in "Cinemattack!" from Batman Family #14 (July 1977)
Every Day Is Like Wednesday
Oh man, now I can't wait to meet the new Doiby Dickles!
Is superhero decadence a chronic condition?
Firestorm Fan
Slipknot Triumphant!
Francis Manapul Draws Firestorm
Alan Moore Wrote Firestorm
How to Draw Firestorm
Girls Gone Geek
Delirium by Javier G. Pacheco
Liberty Belle by Stephanie Buscema
The Idol-Head of Diabolu
One Year Later...
2009 Miss Martian Heroes Convention Sketch by Jason Sobol
2010 "Smash: Life on Mars?" by Daniel "Mercury-Magic"
The Vile Menagerie: THE SWARM
2012 Phoenix Comicon Miss Martian Cosplay
The Villain's Journey: Despero vs. Malefic
2012 "Heroes + Villains: Martian the Manhunter" photography by Philip Bonneau
J.M. DeMatteis's Creation Point
A LEAGUE OF ONE
Jim Shooter
To Kill or Not to Kill
Sex and Drugs
Justice League Detroit
2012 Zatanna Comicpalooza Cosplay by Nadya Anton
Later I Will Destroy This Earth!
The Atomic Sleepwalker Presents: The Complete History of the Atomic Knights
Part I
,
Part II
,
Part III
,
Part IV
,
Part V
Kevin Nowlan
Jack B. Quick (and Batman) cover art for Comic Book Artist magazine
Curses! Broiled Again!
Superman card art
Batman: Legends of the Dark Knight #50 pin-up
Superman Gallery cover sketch
Pappy's Golden Age Comics Blogzine
Hoppy the Marvel Bunny #1 (1945)
Bulletman #4 (1942)
Blackhawk #94 (1955)
"The Three Mouseketeers" from Funny Stuff #1 (1944)
Tomahawk in Star Spangled Comics #70 (1947)
Power of the Atom
The Atom (Ray Palmer) Mego-Style action figure & box by Black Knight Customs
Silver Age Comics
Captain Compass
Subject : THE SUICIDE SQUAD (Task Force X)
Ok Dale, here's my sorta gay posting
Supergirl Comic Box Commentary
Legion Of Super-Heroes #9
Superman Family #188
Superman Family #189
Superman #9
More Superman Family Adventures Process Pieces
Supergirl By Mahmud Asrar
Supergirl #1,000,000
Tower of Fate
JSA Art by Michael Bair
Dr. Fate & Green Lantern art by Heubert Khan Michael
Fun Friday Post
Dr. Fate Art by Troyer
Dr. Fate and the Ankh Symbol

Review Section
Comic shop comics by J. Caleb Mozzocco
Comics Of The Weak by Tucker Stone
Wednesday Is Any Day For All I Care by Diabolu Frank