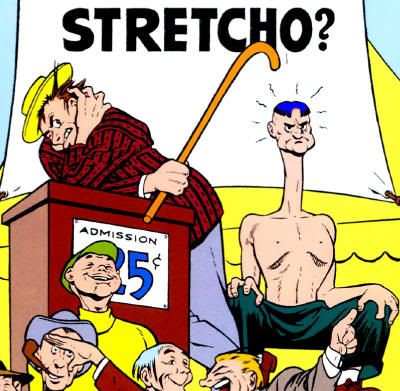 PERSONAL DATA
Real Name:
Unknown
Occupation:
Carnival Freak
Marital Status:
Unknown
Known Relatives:
None
Group Affiliation:
None
Base of Operations:
Mobile
Height/Build:
Variable, with an average build
Eyes:
Black
Hair:
Black
First Appearance:
Police Comics #69 (August, 1947)
HISTORY
Stretcho was part of a touring carnival that made its way to Plastic Man's town. Working as an attraction, Stretcho supplemented his income by using his abilities to pick pockets during his shows. Two crooks named Reggie and Monk had just been released from prison, and had already made one attempt on the life of the fellow who put them there, Plastic Man. Escaping capture to the carnival, the thieves caught Stretcho in the act, and competed with him over who would rob Wall Street Wells, the Millionaire Gambler. Plastic Man arrived to bust his would-be killers, but Stretcho took offense at Plas horning in on his act, and an elastic fight ensued. Despite his bungling sidekick Woozy Winks' unfortunate "help," Plas managed to knock Stretcho clear across the carnival.
During the melee, Reggie and Monk had made another break, but approached the sore Stretcho with the proposition of framing Plastic Man. Following through, Stretcho disguised himself as Plas and began cutting the lines on a parachute drop partaken of by Wall Street Wells. The real Plas responded to Wells' cries for help, lowering him to safety as a makeshift parachute. Plastic Man fell on top of Reggie and Monk, covering them while using a free arm to choke the disguised Stretcho. Clearly no true match for the real thing, Stretcho was tied up in knots and turned over to authorities.
POWERS & WEAPONS:
Stretcho appeared to have powers of elongation comparable to Plastic Man, but did not take on any complex shapes, or otherwise stretch his abilities to the degree seen by others with the same power set.
Quote:
"Beat it, you amateur! This is a closed shop!"
Created by: Jack Cole