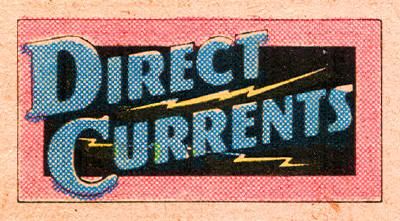 Our annual ranking of fiction's richest.
The veteran writers talks about this homage to "The Most Dangerous Game" in the pages of this week's SECRET SIX.
Jeff Lemire spoke with CBR about his exclusive deal with DC Comics, sharing details on why the time was right for this type of an arrangement, why he's so excited about co-writing "Adventure Comics" and more.
Not everyone is in favor of Wonder Woman's new costume, but Project Runway's Tim Gunn approves of the new look outfit.
COMICS SHOULD BE GOOD's Sonia Harris dedicates this week's COMMITTED to giving the Jim Lee designed Wonder Woman costume an in-depth fashion critique...and, sadly, she is not very impressed.
The All-Stars are on the trail of a bizarre drug cartel consisting of genetically altered jungle animals
Courtesy of DC Comics, CBR presents an exclusive preview of "Red Hood: Lost Days" #2 by writer Judd WInick and artist Pablo Raimondi with a cover by Billy Tucci. The issue hits stores Wednesday, July 8.
DC Comics has released a preview of this week's "Brightest Day: The Atom Special" featuring a story by writer Jeff Lemire and artist Mahmud Asrar with a cover by Gary Frank. The comic hits stores Thursday, July 8.
BLOGS
The Aquaman Shrine
Aquaman Original Art Gallery - Greg Schigiel/Katie Cook
Armagideon Time
Don't phone up Katana…unless the Joker is too busy to babysit for you that evening.
Diana Prince: Wonder Woman
2009 Donna Troy & Wonder Girl commission by Jun Bob Kim
Every Day Is Like Wednesday
Freedom Fighters, Showcase, please
Firestorm Fan
Hi, My Name is Ronnie Raymond and I'm an Alcoholic
Green Lantern Butt's FOREVER!
Always A Bridesmaid Week: J'onn J'onnz, the Martian Manhunter
Always A Bridesmaid Week: Oliver Queen, the Green Arrow.
The Idol-Head of Diabolu
2009 Power Girl & Martian Manhunter commission by Jun Bob Kim
2010 Batgirl & Miss Martian commission by Jun Bob Kim
2009 Gaslight Gorilla Grodd Custom Action Figure by Sillof
J.M. DeMatteis' Creation Point
A little tribute to Jack Kirby and his extraordinary Fourth World epic
Justice League Detroit
2009 Batman commission by Jun Bob Kim
Slay, Monstrobot of the Deep!!
Manic Monday--How Can You Have Your Pudding If You Won't Eat Your Meat??
Supergirl Comic Box Commentary
More Info On Superman/Batman:Apocalypse