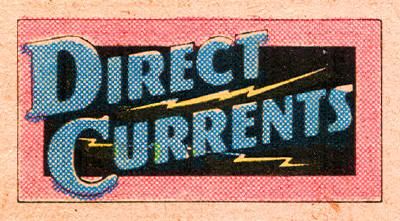 In this installment of Geoff Johns Prime, the writer answers questions about what's ahead for Captain Marvel, Dex-Starr and Aqualad and re-confirms he has no plans to leave "Green Lantern."
ust as DC reintroduced readers to Archie's Red Circle characters and enfolded them into core continuity, so too will the publisher tackle updating Tower Comics' '60s adventurers the "T.H.U.N.D.E.R. Agents." Paying homage to the original series, the new team by Nick Spencer and artist CAFU (with Frank Quitely lending a cover to issue #1) sees a new team take on the agent identities of characters like Dynamo, NoMan, Menthor and others. This new version of The Higher United Nations Defense Enforcement Reserves will deal with threats from both the past and the future while also struggling with slightly self-destructive superpowers in the present across and main feature, plus backups from to-be-announced artists in each issue.
Writer Nick Spencer spoke with us about his T.H.U.N.D.E.R. Agents relaunch for DC Comics, saying that they will operate like no other superhero team within the DCU while testing very concept of heroes vs. villains.
While we haven't really seen too much from Comic-Con (and yeah, it's still super early) in regards to Sony Online Entertainment's highly anticipated action MMO, "DC Universe Online," at the very least fans and gamers alike can now hear what the characters will sound like...sort of...work with us here, folks.
Due in large part to the historic falling out between DC Comics and Alan Moore, the creator's ongoing criticism of the state of the comics industry, and his deliberate disassociation (even financially) from film adaptations of his works, fans have traditionally balked at rumors of auxiliary "Watchmen" stories. Not even those tied to the "Watchmen" movie think a prequel or sequel would necessarily be a good idea. Still, according to Moore, the publisher went to some lengths to get him to take the gig.
As the comics industry makes the trek to San Diego for the annual Comic-Con mega-event, DC has continued posting art and news on The Source blog, including a post today featuring art from the upcoming "Batwoman" series by J.H. Williams III. We love us some "Batwoman" at ComicsAlliance, and while we were very sad to hear that Greg Rucka was departing from the character he defined, this teaser art confirms what you probably already knew: that the new series is still going to be very, very pretty indeed.
In this installment of TOTAL RECHARGE, CBR News' monthly look at Space Sector 2814 of the DCU, Doug Mahnke shared his thoughts on "Green Lantern," admitting that he loves drawing the ultimate badass, Sinestro.
Writer Nick Spencer spoke with CBR News about his upcoming "Action Comics" co-feature starring Superman's Pal, Jimmy Olsen, and his plans to send the cub reporter across the galaxy and through time.
ROBOT 6's Tim O'Shea spoke with Jeff Lemire about his plans while working on DC Comics' Atom and Superboy, the future of "Sweet Tooth," his writing and plotting techniques and much more.
DC Comics has released a teaser image featuring the main protagonists of the current "Brightest Day" series acting out various potential futures, including Hal Jordan as a White Lantern, a dead Aquaman and more.
BLOGS
The Aquaman Shrine
Aquaman Shrine Interview with Stewart McKenny - 2010
Super Friends #20 - May 1979
DC Super Friends #29 - Sept. 2010
Armagideon Time
Nobody's Favorites: Halo
Being Carter Hall
Batman: The Brave And The Bold Magazine #4
Comics Make Me Happy!
Ted Kord, Not Only Merely Dead, But Really Most Sincerely Dead, or Why I Don't Like You, Jaime Reyes
Diana Prince: Wonder Woman
2010 Baby Wonder Woman by Oliver Nome
Firestorm Fan
Steampunk Justice League and Old West Firestorm
The Idol-Head of Diabolu
2007 Paradise Press Inc. Justice League Unlimited Martian Manhunter Story Pages
2010 Baby Martian Manhunter by Oliver Nome
Justice League Detroit
Justice #2 (December, 2005)
2010 Baby Aquaman by Oliver Nome
Once Upon A Geek
1987 at DC Comics: Justice League, Doctor Fate, and Amethyst
Polite Dissent
An Important Message from the Human Flying Fish
Power of the Atom
The Top Ten All New Atom (Ryan Choi) Covers
Rob Kelly Illustration
Monster PSA: Dick Durock
Slay, Monstrobot of the Deep!!
Supermanic Monday #1--Superman Sends A Child To His Death
Supermanic Monday #2--Superman Makes Friends And Influences People
Supermanic Monday #3--Superman The Weed-Whacker
Supergirl Comic Box Commentary
Apocalypse Trade Ad

Review Section