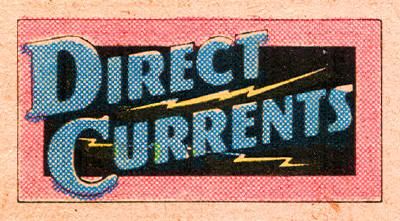 Next year, a second ongoing series will debut called "Flash: Speed Force;" This series will feature currently absent Flash-related heroes like Wally West, Bart Allen, Jesse Quick, and XS, Bart Allen's cousin and Barry Allen's granddaughter from the future.
Slated for November with frequent Morrison collaborator Yanick Paquette ("Seven Solders: Bulleteer," "Return of Bruce Wayne.")
The DC Nation panel at Comic-Con International found Grant Morrison, Geoff Johns, and JMS announcing new projects including a new Flash series and a collaboration between Johns and Morrison. Plus: Darkseid!
The Bat-writers of the DC Universe gathered together to discuss the return of Bruce Wayne and announced Morrison's newest series featuring the Dark Knight--"Batman, Inc!"
Inspired by the upcoming film staring that dreamy Ryan Reynolds fella, players will wield the Green Lantern Power Ring as Hal Jordan (looks like you're stuck with "Batman: The Brave and the Bold," Guy Gardner fans) and take flight across the universe, battling against horrible alien menaces while restoring order to farthest reaches of space.
I understand that Madame Xanadu by Matt Wagner and Amy Reeder Hadley is to join the list of recently cancelled DC Vertigo titles including Air, Unknown Soldier and Greek Street.
"Green Lantern" writer -- and Chief Creative Officer of DC -- introduced himself to those assembled for his spotlight panel with the kind of poise he's known for at conventions, "My name is Geoff Johns. I write comic books."
At CCI's Vertigo: On the Edge panel, the DC Comics imprint announced that "Hellblazer's" John Constantine is getting married. Series writer Peter Milligan told CBR News that maybe he is.
Jennette Kahn, Paul Levitz, Dan DiDio, Jim Lee, Geoff Johns, and legendary creators Dennis O'Neil and Jerry Robinson reflected on the history of DC Comics at Comic-Con International.
Writer Christos Gage returns to the DCU with a one-shot in October called "Ragman: Suit of Souls," revamping the character's origin while exploring his Hebrew faith
The writers of the Super-family line of titles took the stage to discuss their plans for the Man of Steel, Lex Luthor and Supergirl and CBR News was there with all the info.
Early this morning, Batman: The Brave and the Bold made its final appearance at San Diego Comic-Con. The gracious panel more than entertained the packed room, and gave us some hints at what's to come in the rest of the season, as well as some sad news as to the fate of the series.
So Westboro Baptist Church picketed Comic-Con for "worshipping false idols." And Comic-Con picketed back. Playing the role of an "embedded journalist" I got stuck in… shouting with the microphone "I find your lack of faith… disturbing." Anyway, here's how the whole event went down. The Westboro crew were outnumbered, outgunned and police-protected. And a mixture of organised groups, independently motivated individuals and, let's be honest =, one or two wackos, let them know how we felt. God loves Gay Robin indeed…
ComicsAlliance Senior Writer Chris Sims found "Secret Six" writer Gail Simone on the scene, and spoke with the "Secret Six" writer -- an outspoken supporter of gay rights -- about the inspiring response from the comics community. Check out the video after the jump.
Which superhero was the first to fly? What is the secret origin of Mark Millar's "Wanted?" All of this plus - did the Comics Code lead to the creation of Warren Publishing's "Creepy" and "Eerie?"
The first official DC panel of San Diego Comic-con was a casual and humorous affair, a little more concerned with making a connection with the fans than announcing new projects. DC co-publisher Dan DiDio wanted to take the pulse of DC's con-going fans and get some feedback on the last year of DC's stories. DiDio said that he values the "opportunity to hear from [fans] directly."
In the nick of time, the Man of Steel has saved a family's home ... for real. A couple facing foreclosure found the collateral they desperately needed with the discovery of an Action Comics #1 in the basement, aka, the Holy Grail of comic books.
BLOGS
Amazon Princess
"Who cares about that? She's tough!"
The Aquaman Shrine
Aquaman Shrine Interview with Sholly Fisch - 2010
Being Carter Hall
New Poll At Being Carter Hall
Comics Make Me Happy!
DC Artist Copies Famous Artwork; Fans Read Too Much Into it and Go Crazy With Predictions
Diana Prince: Wonder Woman
The Top Five Giganta Covers
Diversions of the Groovy Kind
"Mind War" from Weird War Tales #61 (December 1977)
Every Day Is Like Wednesday
No seriously DC, stop announcing stuff—I can't keep up!
DC presenting DC Presents
DC's October previews reviewed
Firestorm Fan
Brightest Day Teaser and Solicitations
The Idol-Head of Diabolu
The Top 20 Gorilla Grodd Covers
Justice League Detroit
The Top Ten Elongated Man Covers
Once Upon A Geek
1987 at DC Comics: Suicide Squad, Checkmate, and Doom Patrol
Siskoid's Blog of Geekery
Batman and the Outsiders #6: Critical Analysis
Slay, Monstrobot of the Deep!!
Supermanic Monday #4--I Dare You To Read This Issue
Supermanic Monday #5--No Wonder Philadelphia Is Broke
Supermanic Monday #6--I Didn't Want To Go There, But...
Supergirl Comic Box Commentary
Review: R.E.B.E.L.S. #18