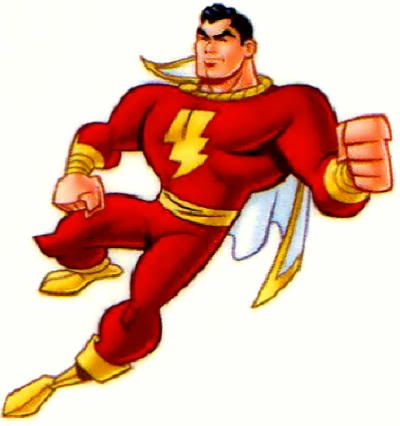 I've only seen clips of B:TB&TB online, but I look forward to buying the DVD set sight largely unseen at some point in my future. I'm a somewhat atypical fan of DC cartoons, in that I prefer the goofy rewatchable nostalgia of
Super Friends
to the more adult
Justice League
. It's like how
Batman: The Animated Series
was far superior in execution to the Superman one, but because the Batman stories were more complex and involving, I find I only want to see an episode once or twice. Superman was more action oriented and peppered with guest stars from the greater DC Universe, so I find I revisit those episodes more readily. In the case of
Justice League
, my interest hinges on who the featured player is and the merits of individual stories. B:TB&TB strikes me as so jam-packed with obscure characters and novel asides, every episode would have something worth the watch.
It seems to me that Captain Marvel is almost too perfect for such a show. The world according to Fawcett was so cartoon friendly, Batman's presumably snarky presence would probably aggravate me, or I'd be frustrated not to see the possibilities of a proper Marvel Family show played out in full. The Big Red Cheese thrives in isolation, and with the exception of stories like
"Clash"
that are designed to contrast sensibilities, "Shazam" sounds like "Superman" on a budget .
The Irredeemable Shag of
Once Upon a Geek
facilitated this post with scans of his temporary tattoos. Besides his swell comprehensive post at
Firestorm Fan
, he allowed me a few character spotlight tats, and I threw in myself with a sticker set. Check them out at the links below...
Firestorm & Company Temporary Tattoos
@
Firestorm Fan
The Atom (Ryan Choi)
@
Power of the Atom
Despero
@
The Idol-Head of Diabolu
2009 Sandylion Batman: The Brave and the Bold Sticker Bits
@
Justice League Detroit