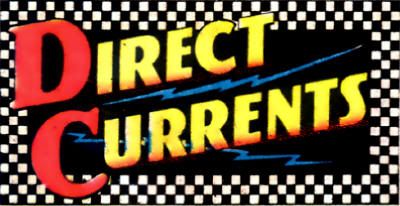 It's Flashpoint Friday in the world of DC news, and that means another dose of info about the major upcoming event in the massively multicreator DCU. Speaking of, there's been much discussion recently regarding just how far-reaching this thing is going to be, and today's information dump is sure to fan the flames of that.
The on again, off again, on again Wonder Woman television saga takes another interesting twist today with Deadline's assertion that the Charlie's Angels director and producer of nerd-savvy tv such as Chuck and Human Target is the front-runner for the directing gig on NBC's Wonder Woman.
The official Green Lantern trailer gives fans a quick look at the home planet of the Central Power Battery, Oa, but what of the grumpy old men who run the joint? Usually it's up to action figure press materials or leaked concept art to break character design news, but today Comic Book Movie spotted a licensed GL t-shirt from Urban Collector sporting the cinematic likeness of at least three Guardians of the Universe.
Not only does the Comics Code Authority no longer appear to have any power, but it's questionable what the organization has been doing for the last year — even though publishers like DC and Archie were still using its approval stamp on their comic book covers.
From the Onion News Network, Kim Jong Il's suggestion that he would disarm nuclear weapons if he can star in the next Batman movie. Beautifully observed.
Denny O'Neil, Judd Winick and Greg Rucka discuss the intersection of comics and social commentary in this latest "Hot Buttons" installment.
Joe Prado designed many Black Lantern versions of DC Universe characetrs for the Blackest Night mega-crossover. And now he's selling them on his website, along with other original art. You can buy them here…
Wizard and ToyFare are dead. We're certain you've heard. Now, Zack Smith looks back on the glories and failings of the magazine that once defined comics.
If you happen to find a shortage of hugs and kisses in your comic book stack this week, look no further than the group portraits of deviantART user Pe-u to fill in the gaps. Brazilians are well known across the world for embracing love and affection, and Pe-u lives up to that reputation with some manga-infused pieces inspired by Neil Gaiman's Sandman, the X-Men and the Teen Titans.
With the casting of Anne Hathaway as Selina Kyle in Christopher Nolan's "The Dark Knight Rises," SPINOFF ONLINE takes a look at the on-screen history of the sexiest cat burglar to prowl through Gotham City.
This week's flashback goes to 1984 and the Kenner DC Super Powers Line. Can Superman make you remember these toys? U DECIDE!
In this week's edition of CBLR, you'll learn the unlikely origin of the use of the term "grim and gritty" in connection with Batman! Also, discover what story famed TV writer Greg Weisman had to wait over two decades to tell!
BLOGS
The Absorbascon
The Attack of Jean Loring's Brain Week Part 5
The Attack of Jean Loring's Brain Week Part 6
The Attack of Jean Loring's Brain Week Part 7
The Aquaman Shrine
Aquaman Shrine Interview with John Ostrander - 2011
Aquaman (Vol.7) #14 - March 2004
Bootleg Aquaman Figure
JLA Can Cooler - 2010
JLA: Liberty and Justice Preview - 2003
Armagideon Time
Nobody's Favorites: The New Guardians
Being Carter Hall
Hawkman Head Sketch by Michael Turner
Comics Make Me Happy!
When John Jones was younger...
Harley Quinn art by John Smith
Booster Gold sketch by Mike Wieringo
Booster Gold cast for Smallville
Cornered
Evan "Doc" Shaner corners THE FLASH
Evan Keeling corners THE BATMAN FAMILY
Diana Prince: Wonder Woman
2011 The Toons talk Wonder Woman by Fictionskin
Diversions of the Groovy Kind
Man-Bat #2's (November 1975) "Fugitive from Blind Justice"
"PLOPular Poetry" From issues 18-24 (August 1975-August 1976) of DC's "Magazine of Weird Humor" PLOP!
El Jacone's Comic Book Bunker
Giving Something Back
Every Day Is Like Wednesday
Let's check in with our friends Batman and Tony Daniel
Firestorm Fan
John Ostrander: Exclusive Interview with FIRESTORM FAN
Custom Firestorm Plush
Firehawk by Garrett Blair
Girls Gone Geek
A Word About Diversity
The Idol-Head of Diabolu
Middletown Season 1, Episode 1: "Pilot"
1998 DC Direct Martian Manhunter Poster by Christopher Moeller
2010 "Manhunter" by Ajay Naran
2010 "Manhunter from Mars" by ~joseph
2011 Superman's Dark Secret: An Unaired Episode of Super Friends
Justice League Detroit
2005 The Vixen "Hey Baby, What's Thong?" art by Darren "Roadkill" Taylor
Kevin Nowlan
Bat Lash TPB cover inks over Nick Cardy
2009 Batman & Batgirl
Pappy's Golden Age Comics Blogzine
"Spores From Space" from Mystery In Space #1, 1951
Power of the Atom
Wizard: The Comics Magazine #136: Ultimate DC Atom (January, 2003)
Pretty, Fizzy Paradise
Sexuality and Story: When Relevance Is Arbitrary
Silver Age Comics
A Modest Defense of Death
Subject : THE SUICIDE SQUAD (Task Force X)
Howie Long as Rick Flag, what say you folks?
Supergirl Comic Box Commentary
Interview With Sterling Gates And Jamal Igle, Part One
Interview With Sterling Gates And Jamal Igle, Part Two
Review: Action Comics #897
Back Issue Box: 'Dark Supergirl' in Supergirl #4
New Kotobukiya Supergirl Statue
Review: Justice League of America #53
The Thought Experiment
Daily Batman: Year of the Anne Hathaway Catwoman

Weekend Review Section 12/31/10
Wednesday Is A Long Day, Yet I Don't Care #94
The Buy Pile by Hannibal Tabu: JANUARY 26TH, 2011
AICN Comic Reviews for Release Date: 1/19/11
More AICN Comic Reviews for Release Date: 1/19/11
Newsarama's Best Shots Comic Reviews: