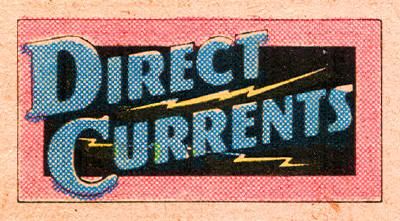 Confirming our theory that Comic Book Movie have an entire filing cabinet of Green Lantern production images waiting for publication, they've today unleashed another page load. Meet Princes Iolande, Larvox, G'Hu, Naut Kei Loi, Hannu, Apros, Medphyll, Isamot Kol.
CSBG takes a look at Ben Caldwell's unsold Wonder Woman pitch and wonders whether a comic like Caldwell's Wonder Woman could be just the "gateway drug" that comics could use to gain a larger female audience.
Suprise, surprise. Keith Giffen is sharing time between the keyboard and drawing board for two November DC titles
Kevin Maguire's JUSTICE LEAGUE: GENERATION LOST #9, John Cassaday on DOC SAVAGE #6, Ryan Sook's BATMAN: THE RETURN OF BRUCE WAYNE #5 and a lovely Kevin Nowlan BATMAN #703 piece.
If you're reading this, chances are that at some point you've been burned by the law. Ever get a speeding ticket? Jury duty? Ten years in Sing-Sing? If so, isn't it time you've gotten back at those fat cat judges and prison bars?
The upcoming single carded JLU figures from Mattel. These will be released this Fall at Target stores and select online retailers.
The intersection between rap and comic books is nothing we haven't talked about before, but JK Parkin at Robot 6 points out that Kenny Keil has fired off the latest salvo in the long history of crossovers between the two art forms. The Apple Bit Newton artist has taken over a dozen classic rap albums and slammed them together with various comics characters, resulting in a few clever gags and some fond trips down memory lane.
What connection does the popular group Devo have to do with Wonder Woman, of all comics? Plus, did DC Comics turn down a chance to make James Bond comics at the height of the Connery films?
BLOGS
Amazon Princess
Sasha Grey as Wonder Woman
The Aquaman Shrine
Super Powers VHS Display
Aquaman Figure Set Catalog Ad - 1967
DC Superheroes T-Shirt
Armagideon Time
Every day…is Freaky Friday in Fawcett City.
Being Carter Hall
Read: Brightest Day #7
Charlton vs Mighty MLJ
World's Wickedest Wednesdays: Neurotic Nazis
The Comic Treadmill
Showcase Presents Hawkman, Vol. One, Entry Four: Brave and Bold 44 (1962), Atom 7 (1963) & Mystery in Space 87 (1963)
Comics Make Me Happy!
75 Favorite Moments in DC History: Number 64
Continued On 2nd Page Following
Soy Un Perdedor Pt. 2
Diana Prince: Wonder Woman
DC75: The New Wonder Woman is Here! (Wonder Woman #178, 1968)
El Jacone's Comic Book Bunker
Everybody's Linking For The Weekend
Every Day Is Like Wednesday
Bald head is obviously cooler than cape, Superboy. Obviously.
Firestorm Fan
Back to School with Firestorm and the JLA
Girls Gone Geek
Haute Heroism
The Idol-Head of Diabolu
The Brave and The Bold #114 (August-September, 1974)
Justice League Detroit
Zatanna by Stephanie Buscema
Pappy's Golden Age Comics Blogzine
Midnight & The Marksman in Smash Comics #43, 1943
Power of the Atom
DC75: Jean Loring's Infidelity (Sword of the Atom #1, 1983)
Reilly2040's Blog
Emerald Warriors #1
Slay, Monstrobot of the Deep!!
Creative Bankruptcy
Supergirl Comic Box Commentary
Sales Review: July 2010