Crisis On Earth-Blog: The DC Challenge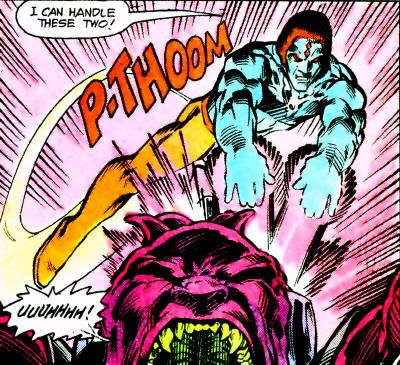 My name is
Adam Power
. Like you, I came from the planet Earth and, with the help of a special jewel, tried to save the galaxy from the tyranny of
Arkus
. I never considered the prospect that another, greater evil would destroy us all.
First came the
giant robots
, whose terrible weapons ripped through the populace of Meru, people of
Shaya
. The
tiny masked men in their little vehicles
were ineffective on the water world of Rana, but the
Centurions
were devastating. I and the other Power Lords fled from world to world. On Militron, we were lucky enough to find reinforcements among the
C.O.P.S.
, until the whole planet became a
Spiral Zone
.
Finally, the evil lord brought his full super powers to bear.
Steppenwolf
and
Mantis
led armies of
parademons
, while
DeSaad
tortured information out of the few survivors in their wake.
Go now and warn them.
Sgt. Rock, G.I. Joe and Captain Action
.
He-Man and the Masters of the Universe
.
The Warlord, Arak and Hercules
. Tell them of our dire fate. Tell them, Darkseid is coming for them all!
The Anti-DiDio League
The Continuity Blog
The Aquaman Shrine
The Atom: Tiny Titan
Being Carter Hall
Comics Make Me Happy
Crimson Lightning
Dispatches from the Arrow Cave
El Jacone's Comic Book Bunker
Firestorm Fan
Girls
Gone
Geek
I Am The Phantom Stranger
The Idol-Head of Diabolu
Justice League Detroit
...nurgh...
Once Upon a Geek
Pretty, Fizzy Paradise
random picture day
Reilly2040's Blog
Supergirl Comic Box Commentary
Toyriffic
when is evil cool?