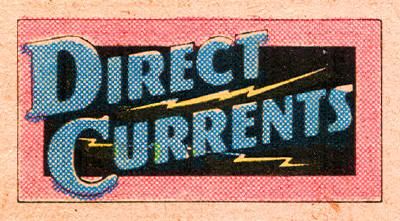 JT Krul spoke with CBR about the launch of his new ongoing "Green Arrow" series, stripping the hero of his friends and family and redefining Oliver Queen's place in his hometown of Star City and the entire DCU.
A very Ryan Reynolds' Green Lantern in this poster, seen by one happy snapping Bleeding Cool reader on the Warner Bros lot. Who happily had his/her camera with him…
It's been on the books for a while. DC's plans to publish a DC Classics Archive edition of the famous Captain Marvel and The Monster Society Of Evil arc...
With back-to-back Red Hood projects hitting in comics and animation, the writer who returned Jason Todd from the grave digs into his Batman writing methods, his opinions on animation and a new "Superman/Batman" story.
Artist Tony DeZuniga spoke with CBR about co-creating the grizzled anti-hero, his spontaneous inspiration for the character's signature facial scar and his thoughts on the upcoming film starring Josh Brolin as Hex.
The fan-favorite artist talks to Vaneta Rogers about handling both ends of the Justice League/Justice Society crossover.
Yanick Paquette is handling the drawing chores for Bruce Wayne's pirate turn in next week's Return of Bruce Wayne #3, we talk about the issue
The Next Legend is YOU! See how you'll interact with the major villains and heroes of the DC Universe in this new trailer presented at E3 2010. DCU Online ships November 2, 2010 for PS3 and PC!
DC Comics has released a preview of "Power Girl" #13 by the all-new creative team of writer Judd Winick and artist Sami Basri. The "Justice League: Generation Lost" tie-in is in stores next Wednesday, June 23.
Paul Levitz's return to the LSH continues and a member decides between the Legion and the Green Lantern Corps.
DC Comics has released a preview for "Justice League of America" #46, the first chapter in the James Robinson written JLA/JSA crossover. The issue, featuring art and cover by Mark Bagley, hits stores on June 30.
BLOGS
Wonder Woman by Jenny Frison
(Amazon Princess)
The Music of DC Comics Preorder
(The Aquaman Shrine)
The Aquaman Chronicles #19 Out Now!
(The Aquaman Shrine)
2010 DC Heroes Wonder Woman Comic Cover Tin Sign
(Diana Prince: Wonder Woman)
Brightest Day, Blank Slate Era, Firehawk's lineage, and Charred Action Figures
(Firestorm Fan)
Birds of Prey #2: White Witch, Crazy Bitch
(Girls Gone Geek)
1979 General Mills cereals Batman promo comics: "The Joker's Happy Victims!
(Gone & Forgotten)
The Diabolu Idol-Head: Eighth Most Important Martian Manhunter Adversary
(The Idol-Head of Diabolu)
2010 DC Heroes Roll Call Wall Scroll
(The Idol-Head of Diabolu)
Jesse James Is A Total Wuss...I Mean Badass!! Hit Comics #46 (1947)
(Slay, Monstrobot of the Deep!!)
Review: Tiny Titans #29
(Supergirl Comic Box Commentary)